Where to Eat in Downtown Los Angeles
Bonaduce Favorites
As longtime LA residents, until somewhat recently not only did Danny and I not go to downtown, we actively avoided it. Over the last few years, it's been a new discovery of ours. It's refreshing to have a new "hood" to hang and EAT. I'm not necessarily talking the newest nor the coolest spots, but the tried and true Bonaduce favorites. DTLA has come a long way and their vibrant, diverse restaurant scene is the proof.
It should be required that all diners order the pistachio-crusted grapes. They're served cold and uncooked, which was a surprise at first. The gorgonzola cream serves as the glue between sweet, purple grapes and the crunchy pistachios. They are bar snacks at their finest and seriously addicting. And then there's the Caribbean spiced duck wings. You guys, duck wings! DUCK WINGS!! Baldoria also touts some tasty and inventive pizzas (hello, charred octopus!) and even host pizza classes.
At any given time of day, you'll likely encounter a line. If you're in a pinch, there's a separate entrance for quick take-out orders, but I highly recommend the dine-in experience. You pencil in your order at the bar, then one by one the sushi master goes around the horseshoe-shaped seating distributing the hand-rolled treats. Most people eat 5. If that sounds like a lot to you, know that they're a little different than hand rolls as we know them — They're less like a cone and more like a cigar. On my most recent visit, I enjoyed toro, uni, blue crab, bay scallop, and salmon skin.
Old by LA standards, this market was established in 1917 and has something for every palate. Eventually curiosity got the best of me and I broke down and waited in the ever-present, frighteningly long line at Eggslut. I needed to know, what's the big deal? Why all the hype for a freaking egg sandwich?? Well, it turns out it's because it's crazy delicious. I fully planned on reporting back that it's overhyped! Save your time! But, friends, the folks at Eggslut aren't kidding around. The bacon, egg, and cheese sammy with a spicy ketchup is what dreams are made off. And don't forget to order a fresh-squeezed orange juice while you're there. That's just one of many great choices at this DTLA landmark. Danny loves the pork wonton soup at China Cafe, Tacos Tumbras a Tomas is a fine choice for tortas and burritos, and the Neapolitan pizza is solid at Olio. Market insider tip: If you hang around Villa Morelianas long enough, they'll give you a complimentary tortilla filled with glorious fatty, salty carnitas. And be sure to try the spicy, creamy panang beef at Sticky Rice.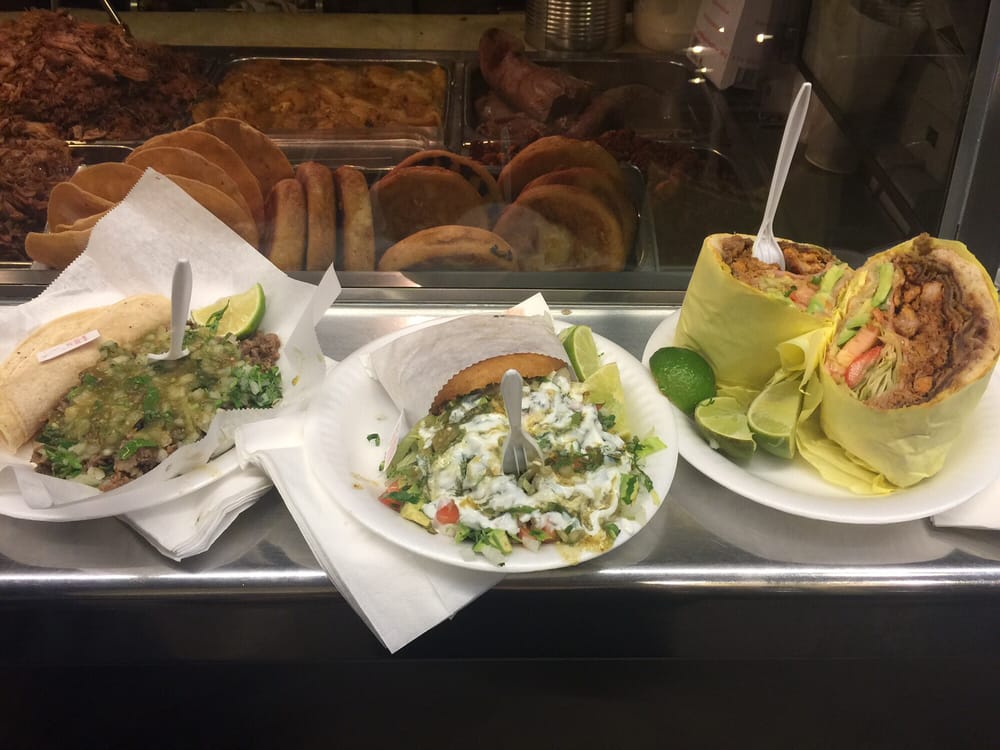 Yeah, okay, Olvera Street is touristy, so wave off the meandering live music and get down to business. El Paseo's tableside guacamole is legit, if not for the theatrics, but the fact that if you ask for hot, you get HOT. The potato taquitos are a crunchy and satisfying snack. If you don't mind a rich meal, also consider the queso fundito and the flan.
Boasting beautiful patio seating shielded from Broadway's mean streets, there's no denying that Maccheroni Republic serves some of the best pastas in town. Alongside the gnocchi and rigatoni, check out the beef tripe pasta, osso bucco tortellini, and the various preparations of calamari.
Located upstairs inside of the Little Tokyo Galleria, you'll find yakitori galore. Think beef tongue, chicken skin, scallop, pork belly, and so on. The tako wasabi, a rare find and not for the faint of heart, is slimy perfection in a bowl. Also, the Los Angeles sushi staple, the blue crab hand roll, is excellent.
The popular Indian restaurant has two locations, downtown and Fairfax. While both serve samosas and curry, Badmaash's extensive menu also offers some interesting mashups like chili cheese naan and chicken tikka poutine. The fried chicken is clearly the crowd favorite as I spotted it on pretty much every table.
Part of Smorgasburg LA's weekly Sunday market, order yourself a giant savory bone broth XLB dumpling with a straw and it's own little steamer basket. Piping hot and made to order, the $10 dumpling is filling and satisfying. Turns out they also cater, and, like, I want to throw an event just to take them up on it. It's that good.